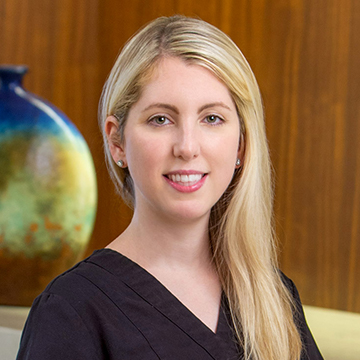 Emily Holden, M.D.
Dr. Holden graduated magna cum laude with a bachelor's degree in mathematics from Bucknell University in Lewisburg, Pennsylvania. From there she went on to graduate from Tufts University School of Medicine and then completed her residency in Obstetrics and Gynecology at Beth Israel Deaconess Medical Center – Harvard Medical School, both in Boston, Massachusetts. She completed her subspecialty training in Reproductive Endocrinology and Infertility at Rutgers – New Jersey Medical Center in Newark, New Jersey.
She is board certified in Obstetrics and Gynecology and is a member of the American College of Obstetricians and Gynecologists and the American Society of Reproductive Medicine. Her hospital affiliations include Riverview Medical Center in Red Bank, NJ and Monmouth Medical Center in Long Branch, NJ.
Dr. Holden's areas of interest include personalized patient care, infertility, polycystic ovary syndrome and reproductive endocrinology. She is passionate about guiding her patients through their treatment and figuring out which option will work best for them.
When she is not at work, Dr. Holden loves to spend quality time with her family, including her dog "Boston".